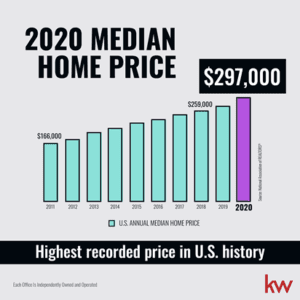 Let's talk about the real estate market.
Did you know that housing inventory is at an all-time low, average home appreciation across the country is currently 9%, and the average median home price is up to $297,000? What does that mean for you? If you've ever considered selling, it means now might be the perfect time! If you fit into one of the below categories of home sellers, it may be time to think about preparing your property for sale. 
Patient Investors
If you've had a piece of property sitting on the backburner until the market heats up, put on your oven mitts! The market is heating up, and some sellers are getting more offers at higher prices than ever before. But, just like pulling a souffle out of the oven, you have to act fast! As new-home construction ramps up across the country, the value of your property will likely cool down.
Downsizer's Delight
Calling all empty nesters and active retirees, if your spare rooms have been getting more dust than use lately, it's time to turn that extra square footage into something you'll get more use out of! Downsizing during a market like this could be an opportunity to maximize the sale of your property.
Mobile Opportunists
With the rise of the virtual work environment, many people are finding they can work from anywhere with internet access. If your work commute dictated your most recent home purchase, it's time to ask yourself if that decision still makes sense. After all, if you can sell your property and move to a more affordable location (or stay with a friend or relative for a bit), why not do it? 
Be Your Own Landlord
If you currently hold landlord responsibilities, but would love the chance to be your only tenant, this may be the right time to sell. With average offer prices at an all-time high, you may find that selling now is worth more than your monthly revenue in the long run.   
If you're in a position to take advantage of this historic market, and you want a knowledgeable real estate expert to guide you through every step, reply to this email or shoot me a call or text at 785-313-4004.